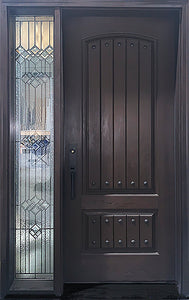 Fiberglass Front Entry System-Door and 1 Sidelite-51" x 82"
TRADITIONAL "ROSEDALE" DESIGN FIBERGLASS ENTRY SYSTEM
NEW, SHOWROOM SAMPLE AVAILABLE FOR QUICK PICKUP OR DELIVERY
Door Size (nominal):
34"
Door Composition and Design:
Fiberglass, 2-panel arch top with V-grooves and black circular Clavos installed
Hinge Side (outside, looking in):
Right
Sidelite Style:
12" sightline, direct-set glass full length
Frame Size:
51" x 82¼" x 6 5/8"
Brickmould size:
52½" x 82½"
Glass Size and Style, Door:
None
Glass Size and Style, Sidelite:
12" x 80" custom Trutech "Rosedale" design with black patina caming. High privacy level
Colour, Inside / Outside
Factory stained dark walnut interior and exterior
Special Features and comments:

Includes factory installed Trutech gripset. Key not available; cylinder can easily be replaced by purchaser.
Low-profile black sill
This entry system is supplied installed in showroom display stand. May be removed by purchaser at jobsite.

UD070622
---
We Also Recommend