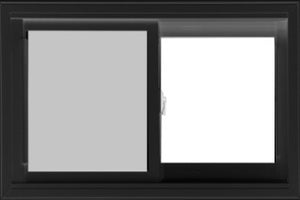 STANDARD SIDE SLIDING WINDOWS-BLACK EXTERIOR
BLACK PAINTED SIDE SLIDING WINDOWS IN COMMON SIZES
MADE TO ORDER!
These standard size windows are made locally in Canada with 100% PVC vinyl, in maintenance-free white finish inside, PAINTED BLACK OUTSIDE
All include screen, lock, and double glazed with Cardinal Low-e 272 coated glass and argon-filled air-space.
Slides from right to left (viewed from the inside)
Sizes are always specified WIDTH x HEIGHT
Jamb depth: 3¼"
PLEASE ALLOW 5 WEEKS ORDER TIME
Contact us for a quote for custom sizes or optional extras: onlinestore@discountdoor.com

Available options:
Brickmould, Jamb Extension, Various other colours, Triple Glazing, Frosted Glass, Decorative interior grilles
UD122822